20 Must-See Denver Attractions During Your Visit
The 20 must-see Denver attractions include everything from our world-famous museums to family-friendly stops. Highlights on my list are the Denver Art Museum, the colorful murals in the River North (RiNo) District, and our internationally recognized breweries.
Read on for tips on the best things to do as you explore the Mile High City.
I receive a small commission when you purchase for some of the links on this page. You don't pay more when you buy through me, which gives me the chance to offer you all this great content for free!
Top Denver Attractions
1. Denver Art Museum
The Denver Art Museum is one of the most visited Denver attractions. You will find it in the Golden Triangle, south of Civic Center Park and downtown Denver. This museum features more than 350,000 feet of space for its art, including photography, sculptures, historic artifacts, and so much more.
Their permanent collection includes pieces from The Americas, Europe, Asia, and Africa. The museum is open every day except Mondays.
>> Read more about the top art museums in Denver
2. Denver Zoo
The Denver Zoo is another popular Denver attraction. You will find it in the heart of City Park, just a few minutes east of downtown.
The Zoo includes a large selection of animals from around the world. They have an amazing primates section with everything from Gorillas to Orangutans. Predator Ridge is another popular section where lions, tigers, and African Wild Dogs will be found.
>> More about visiting the Denver Zoo
3. Colorado State Capitol
One of my favorite free attractions in Denver is the Colorado State Capitol. This building is open to the public during the week. You can either explore the building on your own or join one of their guided tours.
Inside, you will find gorgeous murals, beautiful decor, and information about the history of the building. You can also peek inside their legislative rooms and learn more about Colorado's political system.
>> More about visiting the Denver Zoo
4. Denver Museum of Nature & Science
This museum is for you if you want to explore strange new places and seek new information while staying in the Mile High City. You will find exhibits here ranging from Prehistoric dinosaurs to Vikings, to the human body, North American Native cultures, and many more.
You can check out the IMAX theater and the planetarium if you want to "see" a little more beyond those. There is something for everyone in this magnificent museum. This is one of the few Denver attractions open all year except for Christmas Day.
5. Downtown Aquarium
The Downtown Aquarium has over 500 species of animals under its roof. Not only does it have many different displays for you to see, but they also have an interactive Stingray Reef touch tank. There are exhibits from all over the world, so you will feel as if you are crossing the globe and seeing unique marine life as you go!
If you want to take a break, there is also a bar, restaurant, and 4-D theater. The Aquarium is open from Tuesdays to Sundays and closed on Mondays.
>> Find a full list of the top 10 attractions in downtown Denver
6. Botanic Gardens
If you are a plant lover, this is one of the Denver attractions you will not want to miss. Denver's Botanic Gardens offers you two locations, one in Denver and the other in Littleton, so you can have two distinct areas to visit.
Each offers exhibits where you will see and learn about the local flora and fauna, as well as other parts of the world. The Botanic Gardens are also home to music concerts, art exhibits, and workshops. The gardens are open after Thanksgiving, Christmas, and New Year's Day.
7. Union Station
If you've never been to Union Station or haven't been there lately, you are in for a treat!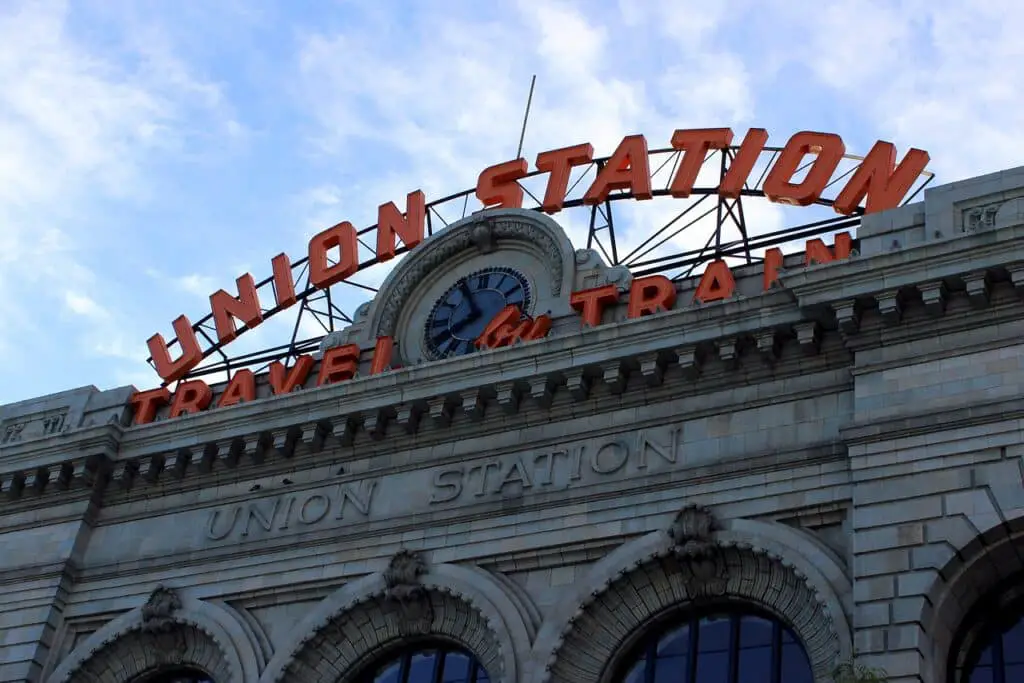 This Denver attraction is over 100 years old, but it was recently revived with original touches and is absolutely beautiful.
Union Station is the center of almost all transportation for Denver, including Amtrak, trains, and buses. It also houses restaurants, coffee houses, and the amazing Crawford Hotel. If you want to hang out, there are comfy chairs and couches, and you can play shuffleboard, chess, and other games during your time here. There is a private tour, too, if you want to learn more about the history and grandeur of Union Station.
>> More details about visiting this top attraction
8. Denver Mint
If you like money, and who doesn't, then you will love the Denver Mint. It is home to one of only five mints in the whole USA. This facility produces only new coins to be used as old coins are taken out of production or lost over time.
You'll have to remember that you can only pick up tickets on the day of the tour. So, plan well and show up as early as possible. Tours operate Monday through Thursday with some exceptions, so check the calendar and schedule when you plan your trip.
>> Find additional visiting tips for the US Mint
9. 16th Street Pedestrian Mall
Not only is the 16th Street Pedestrian Mall a fun place to visit and enjoy, but it is also a great starting point for many Denver attractions on this list. You also have many restaurants, stores, and places to shop to your heart's content.
The 16th Street Mall is also well known for the art displays in the median between the bus lanes. There are also pianos you can enjoy listening to or playing if you feel inclined. Since you are close to many event centers, you can easily see shows, concerts, and comedy events. The 16th Street Mall also has free buses to help you easily get around downtown.
10. Elitch Gardens
Elitch Gardens is a must-visit during your trip to Denver if you want a great place to have fun, get wet, and ride some roller coasters. Elitch Gardens has been a Denver mainstay for over 130 years and gets better every year as they add new rides and ways to thrill their visitors. There are more rides than you can imagine, but there is also a water park, a concert venue, shopping areas, and many dining choices for your enjoyment.
Being that much of the park is outdoors, make sure to check the weather before you arrive. Elitch Gardens is open from May until the end of October. Tickets are available for $49.99 on GetYourGuide.
11. RiNo Murals
The River North District, better known as the RiNo District, is home to some of the most gorgeous murals in the entire city. Even though this is one of the lesser know Denver attractions, you'll be pleasantly surprised when you visit this wonderful neighborhood. Not only are the murals magnificent, but you can also visit some of the best breweries, restaurants, and nightlife in the Mile High City.
I personally like to walk around the area and just take my time checking out all RiNo has to offer. There are huge murals, which are easy to see, but there are also very small and harder-to-find murals, which I love to find. Many alleyways have murals a block long. They are truly magnificent, and remember to take as many photos as you like so you can continue to enjoy them after your stay.
More Fun Tours Around Denver
12. Local Breweries
You will find more than 100 breweries in the Denver metro area. The city also hosts one of the largest beer festivals in the county every October.
You will find a large concentration downtown and in the River North (RiNo District). They create everything from ciders to sours, traditional and non-traditional IPAs, wheat beers (hefeweizens), and pilsners.
Many offer free tours of their breweries. You will also find several guided tours that will take you to the best breweries around town.
13. Cherry Creek Shopping District
The Cherry Creek shopping district is another popular stop for visitors. You have two areas here that offer a variety of high-end shopping. The first is Cherry Creek North. This area offers outdoor shopping with a variety of boutique shops.
Once there, you can head into the Cherry Creek Shopping Center, where you will find dozens of shops. They include everything from large department stores like Nordstrom and Macy's to smaller shops such as Burberry and Kate Spade.
14. Washington Park
Named "One of the Great Public Spaces in America" by the American Planning Association in 2012, you will instantly feel relaxed and comfortable the second you step on the soft grass and soak up the sun. Remember, Denver has more than 300 days of sun a year so Wash Park, as the locals call it, is the perfect place to spend some time as you check out some Denver attractions.
Wash Park offers quite a few things to do, including trails for running, walking, or biking, a tennis court, a lawn bowling area, and so much more. There are also pieces of art and a lake to watch the wildlife as you lounge around and relax.
15. Street Art
One of the things that makes Denver one of the most beautiful cities to visit is our colorful street art. You will find murals, sculptures, and other works from local and national artists around town. The city sets aside a portion of money each year to make the city more gorgeous and interesting to explore.
Some of the most famous pieces include "I See What You Mean" at the Colorado Convention Center, the artwork outside the Denver Museum of Art, and the 6-story tall white dancers near the Center for the Performing Arts.
16. City Park
City Park is one of the best all-around Denver attractions, as it's so much more than just a place to hang out. It's a 330-acre park with the Denver Zoo, the Denver Museum of Nature and Science, two different lakes, and a boat house! What more could you want in one park?
City Park is located in east-central Denver and has been updated several times over its 150-year history. This has kept it looking gorgeous and up to the newest standards and beauty. It is well worth your time to visit it and all its other attractions when you come to our Mile High City.
17. Coors Field
The Colorado Rockies are Denver's Major League Baseball. A visit to Coors Field is a must for anyone that is a baseball fan. The stadium is one the prettiest in baseball, and the team is always fun to watch. There isn't a bad view from the house, and there is even a rooftop bar and restaurant above the outfield.
And, if you don't want to see a game or are here during the offseason, you can always try the Coors Field tour! This tour starts in the bleachers and takes you down to the clubhouse and onto the field, where you can take some photos and feel like you are part of the game. Tours only take place when the Rockies are on the road, so make sure to plan ahead to either see a game or take a tour.
18. Larimer Square
Go back in time and check out the area known as Denver's First City Block. Larimer Square is a street with some of the most beautiful of Denver's brick buildings in a row. Many of these buildings have fantastic stories worth learning about on your trip.
All the buildings have been fully renovated and are gorgeous. Here you will also find a variety of great restaurants, shops to explore, and just about anything else you'd want to see along this street. Larimer Square is open all year long.
19. Red Rocks
One of the most well-known Denver attractions is the world-famous Red Rocks Amphitheatre. This naturally formed amphitheater has been the home to many rock concerts and theater events. There have been films shot here too. It is a can't-miss when you visit Denver since there is no other area like it in the world.
As many events are held at Red Rocks, you will want to plan ahead, as tickets often sell out way before the shows. If you can't make it to a show, you can always visit during the day and see the area for yourself for free. There is a visitor's center, the Trading Post, and the Colorado Music Hall of Fame to explore. Check dates and hours so you can make sure to see everything that Red Rocks has to offer when you visit it.
20. LoDo (Lower Downtown)
Even though it is last on the list, LoDo is not the least. It is a great area that includes Coors Field, Union Station, and the Museum of Contemporary Art.
If you are looking for some nightlife, you will enjoy everything LoDo offers, as this area houses some of the city's best restaurants, bars, and nightclubs. And, if you are looking for something a little more mellow, you will find many shopping opportunities, novelty shops, and spas.
Simply stated, if you want to find many different Denver attractions in one place, LoDo is a great location to start, or end, your trip!
Events in Denver
Are you looking for more fun things to do in Denver? Click the links below for the best events each month.
Additional Denver Attractions to Visit
In addition to the top 20 Denver attractions mentioned above, you will find various other fun things to do while you are here. These are just a few additional ideas to help you get started.