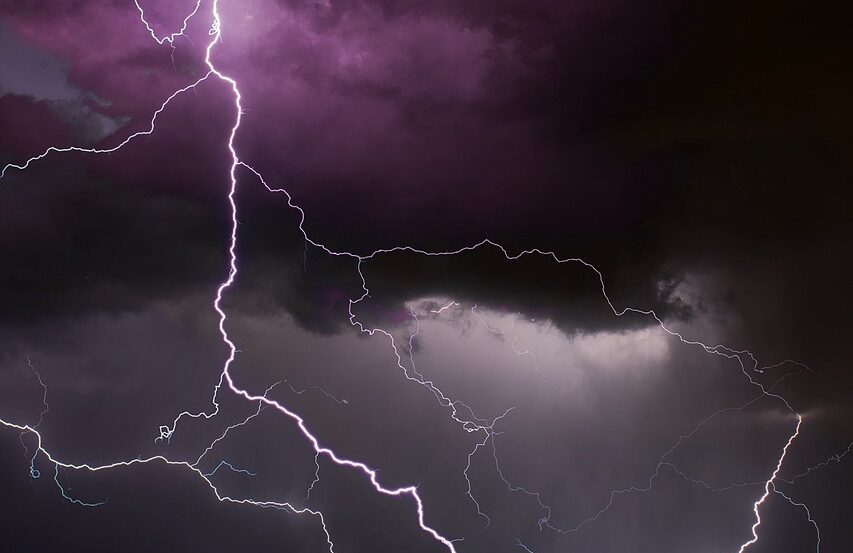 The weather in Denver is sunny and beautiful most of the year. We have all four seasons. The sun shines almost 300 days a year, mixed with some rainy and snowy days.
The snow usually starts to fall sometime in late October. It will last until around March or April. We typically get around 60 inches of snow yearly, but it doesn't accumulate much as it usually melts away quickly from the sun.
Some years, you might see snow as early as September or as late as May. During my first year here, it snowed almost an inch the week before Memorial Day Weekend.
The summers are warm with just a few inches of rain each month. On the days that it does rain, the clouds usually roll in over the mountains in the late afternoon and clear up within an hour or two. Before and after the rain, you will find clear blue skies.
The Denver CO weather is warmest in July with the average highs in the mid-80s. The coldest month is January with the average highs in the mid-40s and the lows around 15 each day.
I receive a small commission when you purchase some of the links on this page. You don't pay more when you buy through me, which gives me the chance to offer you all this great content for free!
Spring
The springtime in Denver is gorgeous. The Denver CO weather forecast in the spring often includes both snowy and rainy days. Most of the time though, you will find clear blue skies.
March is one of our snowier months, but it's mostly cleared off by the time spring officially hits on the 20th. Temperatures in the spring range from around the mid-50s in March to up to 80 in early June.
Early spring is a great time of year to head up to the mountains for some last minute skiing. Spring is also when the outdoor festivals begin.
In the spring, you will find fewer crowds around town, so it's easy to see quite a bit during your stay.
More details on what to expect by month.
Also see: Denver Co Weather in April & Denver Co Weather in May
Fun Things to Do in Denver in the Spring
Catch a baseball game
The Colorado Rockies kick off their season in early April. They play almost a dozen home games each month throughout their season at Coors Field in downtown Denver. Find this year's schedule of games.
See the Flowers Bloom
Head to the Botanic Gardens to see the beautiful spring flowers bloom. Both locations feature thousands of flowers on display all year long, even more in spring bloom.
Celebrate Easter in Denver
Easter is a fun time to visit, and one of the most popular activities is the sunrise service at Red Rocks. For Easter, you can also hunt for colorful Easter eggs, run a 5k to raise money for a local charity, or enjoy a special meal with friends or family at one of Denver's top restaurants.
Spend Memorial Day Weekend in Denver
This three-day weekend is full of fun activities including festivals, outdoor concerts, theater performances, and several Memorial Day remembrance ceremonies. More details on what's planned this year.
Save with our free things to do
Did you know Denver is full of fun, free things to do? Spend some time at one of our free attractions, tour the Colorado State Capitol or sample candies at Hammond's. Find a complete list of my favorite free things to do.
Summer
Summer officially kicks of around June 21 or 22. This is the longest day of the year and a fun time in Denver.
The Denver CO weather during the start of summer offers highs around 80 degrees. July warms up to the high 80s and August cools off just a touch with highs around the mid-80s.
Each summer month gets about 2 inches of rain.
Summer is when you have weekend outdoor festivals (usually two or three!). It's the perfect time to head outside for hiking, biking, or exploring Denver.
Stay hydrated as the altitude and intense sun can dehydrate you quickly.
Find more details each month below.
Also see: Denver Co Weather in June, Denver Co Weather in July, & Denver Co Weather in August
Fun Things to Do in Denver in the Summer
Attend a baseball game
The Colorado Rockies are in action at Coors Field all summer long. Head to a game to cheer on our local team. Make sure to look around for the purple row of seats which are exactly one mile high. Find this year's schedule.
Enjoy a Festival
Summer is the festival season in Denver. Several weekend festivals will feature beer, food, music, and more.
See an Outdoor Concert
With the gorgeous Denver CO weather in the summer, it's fun to catch an outdoor concert. The most famous place to see a show is Red Rocks. There are also dozens of shows at Fiddler's Green and several free concerts all summer long. Find a schedule of this summer's outdoor concerts.
Head to the Theater
Step inside to catch a theater performance. You will find various options from traveling Broadway hits to small, intimate shows at local theaters. A calendar of this summer's theater shows.
Celebrate the Fourth of July
Make sure to catch the annual fireworks display near Civic Center Park to celebrate Independence Day. This show is the night before the holiday, which gives you all day on the 4th to enjoy festivals and other outdoor activities. My insider's guide on what to do in Denver for the Fourth of July.
Fall
Fall officially runs from late September until the Winter Solstice in late December. You will find both rainy and snowy days throughout the fall months.
In September, temperatures stay mild with highs in the upper 70s. By December, you will find highs reaching into the mid-40s.
Ski season typically starts anywhere from late October to mid-December. The mountain ski resorts are always racing to be the first to open and most try to open by Thanksgiving Weekend (as long as Mother Nature cooperates).
Find additional details by month.
Also see: Denver Co Weather in September, Denver Co Weather in October | November
Best Things to Do in the Fall in Denver
Attend a Broncos football game
The Denver Broncos are back in action each fall at Mile High Stadium. They have two to three games each month at home, and it's fun to see them play. Find this year's schedule.
Enjoy a Local Brew
Fall is also a fun time to check out the local breweries. You will find more than 50 craft breweries within the Denver city limits. In October, Denver plays host to one of the largest beer festivals in the US. Find out more about visiting some of Denver's top breweries.
Celebrate Halloween
You will find dozens of places to celebrate Halloween in Denver. Whether you are searching for family fun or a 21+ party, you will find them all here. Discover my guide to Halloween in the Mile High City.
Spend Time with Your Family
No matter what the Denver, CO weather is like during your stay, you will find family fun indoors and out. You can head out on a tour of a local candy factory, do some hiking in the foothills, or visit some of our best family-friendly attractions. A list of my favorite family-friendly attractions is here.
Laugh the Night Away
Another fun way to spend a fall evening in Denver is to head to a comedy club. You will find everything from local improv to internationally known comedians. Find a full schedule of upcoming performances and recommendations for top clubs around town.
Best Things to Do in Winter in Denver
Admire Our Christmas Lights Displays
Every year, Denver is draped in gorgeous Christmas and holiday lights. The Denver City and County Building lights turn red and green around Thanksgiving and stay on throughout the holiday season. Find details on these lights and other fun Christmas lights displays around town.
Watch the New Year's Eve Fireworks Downtown
The best place to ring in the New Year is during downtown Denver's NYE fireworks display. There are two shows yearly so the entire family can participate in the fun. For NYE, find out more about the fireworks and other fun things in Denver.
Catch a Performance of the Nutcracker
From late November to late December, head over to the Ellie Caulkins Opera House to catch a performance of the Nutcracker. Performed by the Colorado Ballet, this annual holiday tradition is a family treat with talented performers and a beautiful set. Find out more about seeing a show this year.
Explore Denver During Christmastime
The Denver CO weather around Christmas is crisp, making it a fun visit. This time of year, catch special Christmas shows, top Broadway theater productions, holiday concerts, and more. Find my tips to visit during Christmas, including a calendar of activities.
Enjoy the National Western Stock Show & Rodeo
One of the most significant events in January is the National Western Stock Show & Rodeo. This event has been a Denver tradition since 1906. This 15-day event features rodeo performances, world-class bull riders, animal exhibitions, and much more. Visit the January calendar for details.